Going outside can be a challenge for the physically infirm, be they victims of a horrifying accident, debilitating diseases such as polio or those who were born with unfortunate birth defects. When simple walking is an ordeal, if not an impossible task, getting out and about is almost a pipe dream for many people with major physical disabilities. That said, though some modern technology has made a living with physical disabilities easier and more fulfilling, nothing can take the place of going out into the world and absorbing the world and the people in it. People who go outside frequently often find themselves feeling better in the long and short term alike as sunlight, clean air and stimulation of the brain help improve the human mood in ways that are difficult to articulate into words.
For many of the physically infirm, there are some options, not all of which are always ideal for every physically infirm person. Wheelchairs are a time-honored mobility tool, but these tend to require considerable effort to move on one's own or the assistance of another person. Because not every physically infirm person has the kind of arm strength or near constant attention from another person, not everybody finds a wheelchair will fit their needs. Mobility scooters are a more recent innovation, but are often difficult to travel with, as well as big and bulky, taking up a great deal of space that many people do not want to spare. Fortunately, there are alternatives.
A lightweight folding mobility scooter (like the Luggie shown in the image), is an innovation in mobility technology. These scooters work quite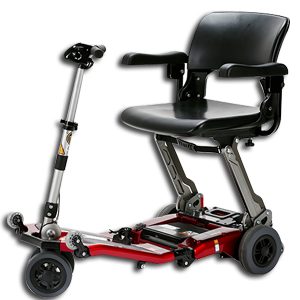 similarly to old fashioned mobility scooters that run on electric engines. However, many things set these scooters apart from their older, bulkier ancestors. Among other differences, advances in materials science have transformed once heavy scooters into something light enough that even many of the physically infirm have found themselves capable of lifting. Additionally, with this new, more compact and lighter weight design allows these devices to be collapsed in on themselves and folded up to make storing them and transporting them easier than ever. Because these scooters are easier to move, tasks such as vacations, long journeys and living in cramped quarters, become viable options even though for decades such situations were considered impossible for the physically impaired to live in.
Getting out and about with lightweight collapsible mobility scooters are among the best things a physically infirm person can do. Because so much research has shown that fresh air and sunlight can do wonders for a person's mood, many of the infirm are finding that going outside, whether it's just for a stroll around the neighborhood or a longer term trek through town on one's daily business, is among the best ways to improve their mood and feel better about life in general. Even people who are not physically infirm find that going outside with a great deal of regularity is helpful for maintaining their energy levels, improving their mood and making them feel better.
Though the exact reasons for it are not entirely understood by science, enough scientific research supports the importance of human beings going outside to be unquestionable. If you have the chance and are physically infirm or love somebody who is, it is a great idea to at least consider a collapsible mobility scooter. Millions of the physically infirm the world over have found that these advanced scooters are a great way to move about the world again with fewer complications than ever before. For speed and flexibility in a mobility device, few devices are quite as versatile as these scooters.